Installing the bloc of production planning at your factory will help carry out a preliminary assessment of time and labor costs for manufacturing of products.
The elaboration of our staff will also let to monitor the compliance of target dates, the execution of which will be an undoubted advantage of your company over the competition! And the ability to see the big picture of the workload of production will allow to optimally allocate the resource base, that is particularly effective in large enterprises.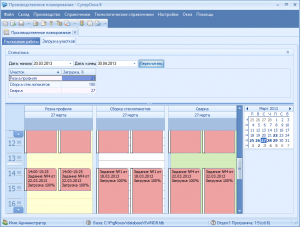 In addition to the above, the bloc of planning includes:
The definition of production sites;
Breaking the technological cycle of products' manufacturing by operations;
Determination of the time required to perform each operation and basing on it determination the performance of production sites;
Creation of typical time schedule of department's work for a week;
Filling out the departments' schedule for each month;
Transferring to the planning, herewith the planning of departments' workload is actually carried out;
The control of operations' performance by departments.
The bloc of "production planning" will help your enterprise to reach a new technological level! After its installation there will be no problem to systematize the production process and, importantly, all necessary for this functionality will be integrated into a single program, that will allow to avoid confusion during the search for the required data.